GadgTechWorld.blogspot.com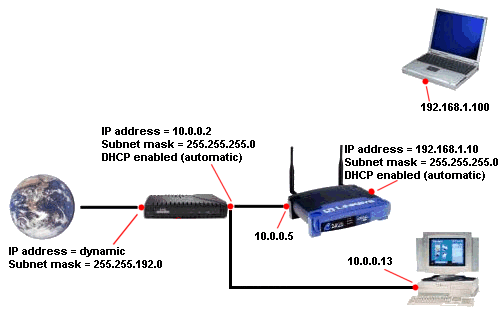 A wireless router affords laptop or portable computer users greater mobility in their homes and businesses. In most home networks, wireless routers are connected to a cable or DSL modem, and the router sends the signals and information that make up an Internet protocol (IP) thread to the user's computer via radio signals rather than wires.

To communicate with the wireless router, individual computers house transceivers such as an internal expansion card, a peripheral docked by USB or, in the case of laptops, a PC card or hard-wired internal device. For those accessing the Internet through a high-speed connection, a wireless router can also serve as a hardware firewall (as opposed to a software program), enabling protection from undesirable outside computers without exhausting as many system resources as traditional firewall programs.
Installing a Wireless Router
First, turn off the PC and modem, then remove the Ethernet cable from the PC and plug it into the router's WAN port. Install a second Ethernet cable between the PC's Ethernet port and one of the router's Ethernet ports. Power the modem, router and then PC, waiting for the system to boot and initialize before attempting an Internet connection.
Most routers are programmed with the manufacturer's default settings, including the network's name or service set identifier (SSID), channel and sign-on password. These default settings generally may be changed using included software or an online setup utility provided by the router's manufacturer.
Configure the router by entering the router configuration IP address at the URL provided, followed by the configuration utility ID and the default password. To find your router's default IP address and the default login info, refer to the owner's manual. If you own a Linksys router, a popular brand, the IP address is usually 192.168.1.1. Two other popular brands, D-Link and Netgear, generally use 192.168.0.1.
Connecting a Printer to a Wireless Router
First, check the documentation that came with your printer to determine how it's designed to connect to computers. Connections made through Ethernet, USB and (obsolescent) parallel ports are common, but newer printers are sometimes wireless-enabled and allow you to simply add them to your wireless network.
Refer to the owner's manual for your particular wireless router. Inside, find the default IP address and the default login info. If you own a Linksys router, the IP address is usually 192.168.1.1. Other popular brands D-Link and Netgear generally use 192.168.0.1.
Connecting Two Wireless Routers
Bridging two wireless routers involves configuring both networks manually. Visit each network location - which should be recognized by your computer automatically - and configure the appropriate Service Set Identifier (SSID), Wireless Encryption Protocol (WEP) or WiFi Protected Access (WPA) key and authentication information. Make sure you know the SSID and WEP or WPA key ahead of time.
Connecting an Xbox 360 to a Wireless Router
Connecting an Xbox 360 to a wireless router allows you to use Xbox Live without physically connecting your Xbox to a cable. Power up your Xbox system and the router, then plug the wireless networking adapter into the two slots at the Xbox's rear. Unplug any existing Ethernet cables and connect the USB connector to the port adjacent to the adapter. Use the system area of the Xbox dashboard to adjust your network settings. This should connect you to the wireless network.