Best Book Reading Light :
Lightwedge
is Available on Amazon
---
I will introduce one concept and two real products for bookworms who like to read at night but having difficulties disturbing near person with the light source.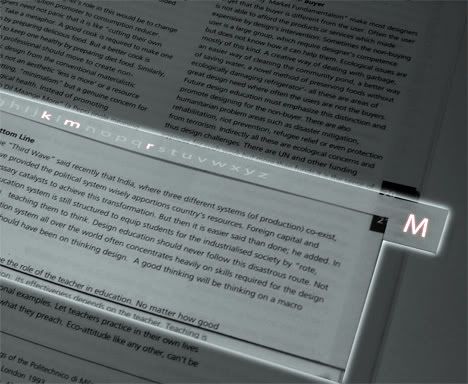 The MARK bookmark
is just an excellent concept thought by Avnish Priya Gautnam. During the day, it's like any other bookmark but at night, glows to illuminate your pages via
FOLED
(Flexible Organic Light Emitting Diode) technology.
The intensity of light can be controlled according to the reader's requirements.
It has won 2007 Design concept award at Red Dot. Not manufactured yet.
The other ones are
LightWedge Paperback
and
LightWedge Mini
. Actual very useful real devices for bookworms.
A lighted, distortion-free acrylic lens extends across the book page and emits all the brightness directly onto the book page, reducing shadows and glare. Since the light is emitted directly onto the page, there's no excess reflection to disturb others nearby.
The LightWedge Paperback is thin and lightweight and easily slips into a backpack, tote bag, or briefcase. Also, when not in use, it is useful as a convenient bookmark stored between a book's pages. The bright LEDs that illuminate the
LightWedge Paperback
have two brightness levels and a lifetime warranty. The light can run for 40 hours on four AAA batteries.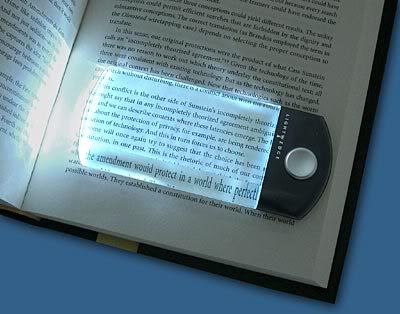 The same great LightWedge but now in a smaller and more convenient size. The
LightWedge Mini
is a perfect light for reading maps, menus, manuals and other materials in the dark.
If you enjoyed this post, make sure you subscribe to my RSS feed!